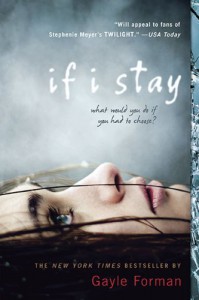 ***NOTE: I wouldn't advise reading the book blurb for the sequel, Where She Went, until you've read
If I Stay
***
4.5 Stars
Thank GOD I didn't read this back in 2009 when it was first released – the sort of "cliffhangery" ending would have killed me…and I would have waited 2 years - until 2011 - for the sequel's release?!? And did the people that read this in 2009 even
know
that a sequel,
Where She Went
, was forthcoming? That must have been rough!
Having said that, I loved this beautiful, emotional story about Mia, the barely hanging on survivor of a deadly car wreck that has just wreaked havoc on her family. The wreck happens fairly quickly in the beginning of the story. Mia enters a coma-like state, but she's also in an "outside of the body" sort of existence where she is able to see and hear everything around her and even roam around the hospital. The story switches back and forth between the present and the past, filled with flashbacks of Mia's life with her family and her boyfriend Adam. Being a romance fan, of course the Adam flashback scenes were my favorite :)
Mia, the quiet and gifted cellist with really just one friend at school, and Adam, popular fellow student and lead singer in a local rising band. Their passion for music brought them together and they fell in the kind of hard and deep love that seemed more grown-up than high school. During the months leading up to the wreck, Mia and Adam's year and a half relationship was under strain. His band's fame is rising, and she's just had a killer audition at Julliard in New York. Were they even going to survive that?
Now with Mia's body partially wrecked, and the temptation to join those she has lost overwhelming, can her family, and particularly Adam, convince her to stay? Some of the hospital scenes – and the lengths Adam was willing to go to convince Mia to stay, were so poignant! I loved this story and based on its conclusion, comments from friends and the Where She Went book blurb that I've just
finally
allowed myself to read (wow, that sounds good!), I think I may end up loving the sequel even more :)
The
If I Stay
film adaption lost Twilight director Catherine Hardwicke in late 2010, and within months, also Mia frontrunner Dakota Fanning (no more lead roles until she finished high school was the "official" line). Now we have a Brazilian director attached...I think...and no Mia….When you look it up on IMDB, it says: "If I Stay (????)"...Not a good sign. *Fingers-crossed* that Lionsgate (via Summit merger) gets this film out of pre-production sometime in the near future.