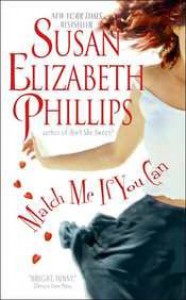 What a totally unexpected treat!! I really loved this one. It was my first Susan Elizabeth Phillips book, but I'm already looking for more of her work. The premise was so adorable. Annabelle Granger comes from a family of successful doctors, accountants and the like, but every business she becomes involved with ends up failing. She studied theatre in college, but that didn't amount to much. Her ex-fiancé is now a cross dresser, and she hasn't been with a man since their broken engagement 2 years ago. But things are turning around for Annabelle. When she inherits her grandmother's matchmaking business, Matches by Myrna, she changes the name to "Perfect For You", and through one of her contacts, she lands Chicago's ultimate bachelor - aggressive, talented, and devilishly handsome sports agent Heath Champion – aka The Python – as a Perfect For You client. Heath is already working with another matchmaker, Portia Powers, but Annabelle's tenacious and determined enough that he gives her a shot. The book jumps right in, with Annabelle running late to her first meeting with Heath.
Heath already works too hard as a sports agent, and he doesn't want to work too hard at finding his dream wife. So, after seeing how well Annabelle is at making the initial introductions, Heath forces Annabelle to attend all the initial dates. Each set up lasts 20 minutes, and Annabelle's job is to help get the conversation going, apologize and keep them busy – you know, in case Heath is running late or needs to take a call! :) Then, Annabelle is to advise Heath on whether he should pursue a 2nd date, one on one. If Annabelle can match Heath, the success of her matchmaking business would be insured. So in spite of his crazy demands, Annabelle is game. Heath's dream wife can't be too career oriented – she needs to fly across the country with him at moments notice, like sports, look like a model, have wit, not much older than 30 since Heath wants kids but not right away, polished upbringing….the list goes on. Heath sounds like a total ass, and he was initially, but I still fell for him.
The dates don't seem to work out because it's actually fun, unconventional redhead Annabelle that Heath has the most chemistry with. The banter and delicious tension can only go on for so long; Heath and Annabelle struggle to keep it professional, and fail miserably :) Annabelle is so conflicted as she's trying to protect her business and her heart. She even has a sham relationship with a star athlete Heath is dying to sign to keep up the appearance that Heath is only a friend and client. Annabelle is so torn as she has to set up dates for the man she's falling in love with! Heath is also conflicted as Annabelle doesn't meet this ideal fantasy wife he's concocted in his head. When Heath puts Annabelle under the gun, she produces this fantasy candidate…but is that what Heath still wants?
I just loved Annabelle! Usually, it's the guy I swoon over the most in romances, but I totally fell for Annabelle. The dialogue was snappy, all the side characters were entertaining, and the unexpected romance between rival matchmaker Portia & Bodie (Heath's associate/kinda bodyguard) was fun & hot, too. I can't recall all the times I laughed at the outrageous things that came out of Heath's mouth! Everything was great about this – glad I found it.